It's the weekend before Christmas! So exciting…but Christmas Eve with your children can be even more exciting!
I hope you've got your gift shopping sorted by the time this day comes. Just so that you can enjoy the festive anticipation and get some Christmas preparations in place. Oh, I do like all things Christmas! It would have to be one of my favourite times of the year. 
Whether your Christmas is going to be filled with the excited faces of children waiting for Santa, reconnecting with your nearest and dearest, or having a well-deserved rest, we wish you a very happy one!
I know Christmas time can get frantic and stressful.. but there are some things that don't take much & are really fun! 
Lights out! Movie time ..
If you want something a little more festive than just a simple Christmas Eve with your children, plan a more festive evening! Complete with cocoa, movies, cookies, blankets. Make it a Christmas eve your kids will never forget. So put on your Christmas pyjamas, get snuggled in, grab your hot chocolate, and get ready for a weekend to remember! 
Create a line-up of festive films that are safe for children's eyes, like The Grinch, Elf, The Santa Clause, The Christmas Chronicles and The Polar Express. Your family and kids will love it, and it may just become your new yearly tradition. 
'Twas the night before kidmas ..
Get the kids to help leave treats out for Santa, before marching them off to bed. The sooner they're asleep, the sooner Christmas morning comes!
Reindeer food ..
This would have to be one of my favourite things at Christmas, especially when my son was little. Sprinkle (oats with glitter) on the lawn at Christmas eve night. The moonlight will make it sparkle bright. As Santa's reindeer fly and roam, this will guide them to your home.
Hang stockings ..
Over the fireplace, by the tree, or at the end of your child's bed. Why not let the kids hang their stocking, so Santa knows where to
drop a few little treats. Adding some small gifts in a stocking will keep them occupied for a while in the morning. Especially while you're trying to wake up fully right?!  So a bedroom stocking might just slow them down. Before they storm into your bedroom in the small hours, excited to see what else Santa has brought them! Oh the joys of Christmas mornings 😉
Tip: If their stocking is inside their bedroom, remember to be extra careful sneaking in to fill it once they're asleep!
Leave something for Santa ..
Once the evening comes, don't forget to leave a treat or two out for Mr Claus. He and his reindeer have a long night ahead of them, so you can't blame them for wanting a snack along the way. Maybe a mince pie or cookies on a plate, and perhaps some carrots for Rudolph and co. And don't forget a glass of milk or wine / beer / sherry to wash it down. 
No chimney? No problem ..
A long time ago Santa relied on chimneys to deliver everyone's Christmas gifts, but it's just not practical these days. Homes come in all sorts of shapes and sizes, so if you don't have a fireplace with a chimney, don't forget to leave the magic key on your door to let the man in red deliver his gifts. 
He knows when you're awake! ..
Once you've prepared your home for the arrival of Santa, it's time to get the little ones off to bed. Because as we all know, Santa only visits when you're sleeping! To help you calm their excitement and get them off to bed, treat them to Christmas movie, their very own Christmas trinket or tuck them in wearing their Santa hat. 
Christmas Eve Party  ..
It doesn't always have to be Christmas Eve with your children! So if your Eve is child-free, or you're an elf just finishing the toughest shift of the year, it's time to have some fun. Whether you're going all out with a dinner party, sharing a few cocktails, or just a few low-key drinks and nibbles with loved ones, Christmas Eve is a perfect excuse to get together. 
It would be great to have the mixologist skills to make individual cocktails in a jiffy. However, I'm not sure about you, but I'd prefer to spend time with myguests rather than hanging out in the kitchen the whole time. One great way of getting around this is to make a generous batch of festive punch. And let guests help themselves. 
Spare a thought for the non-drinkers in your party, and make up an alcohol-free batch of mulled apple to keep them in the festive loop. Take a litre of apple juice, and simmer it in a saucepan with some orange peel, a cinnamon stick and a couple of cloves, until the flavours have had enough to time combine. Sample the flavour, and add honey to taste. And Bob's your uncle! 
That's a wrap! ..
Now's the time to wrap the last few gifts and place them under the tree, or in stockings. The best part about leaving it this late is knowing the recipients won't be able to have a cheeky feel or shake before Christmas Day! 
Food glorious food ..
While you've got time ahead of the riot of new toy noises and wrapping paper explosions, have a last run through your timings for Christmas dinner. Check you've got all the ingredients you need, and anything that needs defrosting is doing so in plenty of time. Even if you're doing this at night when the shops have closed and last minute items aren't an option. If you find out the night before it gives you time to process the predicament and come up with an alternative plan. With a little help from the internet. Finding out you forgot to pick up brandy sauce just before you serve the Christmas pudding is far more stressful than
knowing in advance, and you never know, one of your visitors might be able to bring something with them. 
Get set
With so many elements to the classic festive meal it can feel like you're doing nothing but cooking all day. So why not set your Christmas dinner table up the night before. In fact, get the kids to help you! This is not a bad idea, especially if you're expecting more people for dinner than usual. We like to keep it semi-formal for Christmas, so it looks like a special occasion. Though not like we're bamboozling guests with too many glasses and pieces of cutlery.
Christmas Morning Breakfast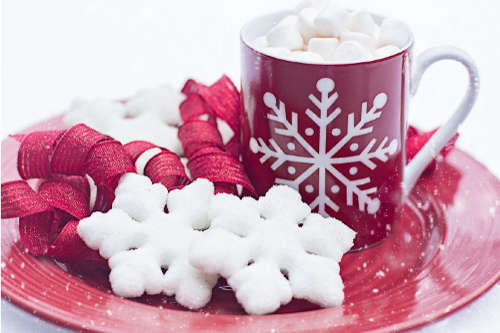 For a true festive experience, you need all of the festive foods and goodies to go along with it! Hot chocolate is an essential component to Christmas, but it doesn't have to be complicated. Plain, instant cocoa is one option, or to make it a bit more decadent, add chocolate syrup! And mini marshmallows. And chocolate shavings. I could go on, but I won't, or we'll be here for a while.
For Christmas morning, why not make a special breakfast. Have something you don't usually have, like pancakes, French toast (these recipes are unbelievable!), bacon & eggs, or some croissants. Better yet, chocolate croissants. And don't forget the crackers!!
Do you, and your family have any traditions for the days leading up to Christmas? Why not drop us a line and let us know ..
Enjoy your Christmas Eve with your children, and have a very Merry Christmas, and a very happy New Year!! From all of us, at My Storage…
Ho ho ho .. Bye for now!
Ps: Good housekeeping has many more Christmas movie ideas (click here)
Want to receive a message from Santa?! Click (here)